Job Opportunities
Apply now for cleaning jobs in and around Devon
​
Contact Us
If you would like to apply for a vacancy then please complete the form below or drop us a line
01626 866416
Current Vacancies
Mobile Cleaner
£14,157 PA
Cleaner required to cover various cleaning contracts around Devon.
33 Hours per week
Monday 7.30am - 1.40pm
Tuesday 8.00am - 12.45pm
Wednesday 7.30am - 1.40pm
Thursday 8.00am - 12.45pm
Friday 7.30am - 4.00pm
Saturday 8.00am - 10.00pm
28 days paid holiday per year including bank holidays.
Statutory pension.
Full uniform provided
Must hold a full clean driving licence. Van will be supplied.
Paid monthly
must have extremely high standards, have attention to detail and take great pride in their work.
Must be trustworthy and reliable.
Full training will be given but previous experience would be an advantage.
Email your CV to info@combatcleaningsw.co.uk
. Ref 262
High Quality Cleaner
Approx 20 hours per week
£8.00 per hour
Cleaning across the whole of Devon on a range of different projects from holiday accommodation to new build hospital's. If you like variety then this role is perfect. You will be based from our Torquay Office.
Pay every two weeks.
5 weeks holiday per year.
Statutory pension.
Full uniform provided.
Unlike other cleaning companies, we pay for all your hours from when you clock in at the office to when you get back to the office at the end of the day.
Must take pride in work and pay attention to detail.
Experience preferred but full training will be given.
Full clean driving licence required.
Contact us today with your details.
We would be looking to start in January.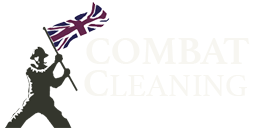 Commercial & Residential Cleaning
Call: 01626 866418 | Email: info@combatcleaningsw.co.uk