An Environmentally Friendly Cleaning Service In Torquay, Devon
We offer the best service to make your life cleaner & easier
​
An Environmentally Friendly Cleaning Service In Torquay, Devon
We offer the best service to make your life cleaner & easier
​
Request a call back
Just tell us your number and we will get back to you as soon as we can.
Factories & Warehouses
Combat Cleaning offer a diverse and extensive range of industrial cleaning. Factories, Warehouse and depot cleaning can include a wide range of surfaces including the internal structure, high level shelving, automated racking systems, flooring, roller shutter doors and the external cladding. Clients often require these environments to be upgraded in terms of cleanliness, possibly due to change of use, changes in goods and stock held or to complete an auditing procedure.
As industrial cleaning contractors we are often involved with substantial buildings and warehouse premises, some are vacant, others are 24 hours, 7 days a week operations where safety considerations are of paramount importance.
All our operatives hold 'CSCS' cards where relevant .
CITB accredited IPAF platform operator's certificates.
PASMA certification for tower access construction.
Experienced site management and supervision.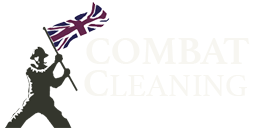 Commercial & Residential Cleaning
Call: 01626 866418 | Email: info@combatcleaningsw.co.uk